PHILIP BLOOM IS BACK IN BOSTON!

BACK BY POPULAR DEMAND

BOSFCPUG presents in association with Exposure Place Studios at EP Levine

PHILIP BLOOM $99 INTERMEDIATE DSLR WORKSHOP

"Harnessing the Power of your DSLR"
SATURDAY, OCTOBER 16TH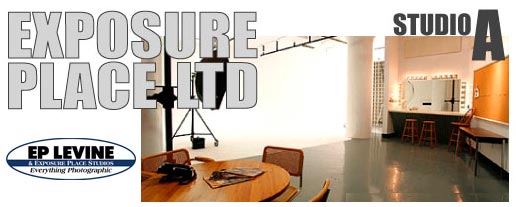 VENUE CHANGE: We are excited to announce that we will NOW be holding our workshop in STUDIO A of Exposure Place Studios at EP Levine - complete with 35 foot cyc wall!
Studio A, approximately 35' x 65', features a dual-corner cyc, 12-14' clearance, direct access to the loading dock and has an optional client suite complete with leather furniture, mini wet bar and A/V system. The cyc wall is also well suited for projection.
LEARN DSLR FILMMAKING WITH PHILIP BLOOM AND BOSFCPUG!
Special sponsor bundles and exclusive discounts will be available only to workshop attendees
Back by popular demand for a return engagement: Spend a full day in a workshop with UK-based DSLR filmmaker Philip Bloom!
Philip Bloom – acclaimed filmmaker, Director of Photography and Director – will be in Boston Saturday, october 16th to conduct his wildly popular interactive hands-on workshops. Philip is considered as one of the new breed of cinematographers, having recently embraced the video DSLR cameras, in particular the Canon 5d Mk2 and the Canon 7D. If you're interested in DSLR video, this is a rare opportunity to get a close-up look at one of the industry's most brilliant innovators in the field.
Only $99, this one day intensive Philip Bloom DSLR workshop will take place on Saturday, October 16th. Includes breakfast, lunch, free parking and raffle!

Covering all the Canon EOS DSLRs and a bit on Nikon and the Panasonic GH series of DSLRs, this all day class is for intermediate users, ideally for people who have the cameras already and are looking to take their skills to the next level...
Video DSLR filmmakers looking to learn new techniques, gain insights and advance their craft.
In this intimate session, Philip Bloom will guide you through a number of topics, providing hands-on advice throughout.
You'll receive invaluable tips on practical shooting techniques, sound recording and post workflow, all with the goal of getting the most from every aspect of your DSLR experience...

Topics covered include the following and much more:
Differences in the cameras
Lens selection: When to use the right lens for your shots
Choosing the right accessories for your DSLR
Lighting for DSLR filmmaking
Recording proper sound for DSLR filmmaking
Timelapse recording with your DSLR
Production workflow techniques
Philip's post editing best practices using Final Cut Pro, Adobe Creative Suite 5 and Avid

A jam packed day with Philip Bloom that will really improve your skills with these revolutionary cameras! Learn and interact with Philip Bloom to take your DSLR filmmaking to the next level.
BOSFCPUG Philip Bloom $99 DSLR Workshops
"Harnessing the Power of your DSLR"
DATES: Saturday, October 16th

TIMES: 9:30AM - 6PM (Check-in at 9AM)
VENUE:
Exposure Place Studios - Studio A
EP Levine
219 Bear Hill Road
Waltham, MA 02451
Venue Phone: 617-951-1499
Directions
to Exposure Place Studios at EP Levine with plenty of
FREE parking
!
Register NOW and be automatically entered to win DSLR-filmmaking related prizes from Vimeo, Red Giant Software, Focal Press, Litepanels and more (prizes to be listed shortly)!
QUESTIONS about the workshop or registering? Contact Daniel Berube now at +1-617-331-8991 or email Dan.
A WORD FROM PHILIP:
"For the past 16 months I have been solidly using DSLRs for all sorts of projects, from personal short films through to the Lucasfilm movie "RED TAILS." At this workshop I will share with you the things that I have learnt from my experiences shooting these so you will come out the workshop fully armed to join the revolution!" - Philip Bloom
WORKSHOP TESTIMONIALS:
"How wonderful it was to have Philip Bloom, an incredibly charming, world-recognized, straight shooting teacher for a full-day seminar - to really have the opportunity to hear from him, and ask questions of him about the good, the bad, the twists and turns of these cameras. That alone was an incredible opportunity - but, also to be able to see Philip's incredibly varied and masterful work - to hear and question him about that as well - was just another boost of adrenaline/inspiration to go out and raise my own game - to invest more time and resources into what I do." - Whit Wales
"Thanks again for bringing Philip Bloom to town. It was a great workshop. Outstanding in every way imaginable!" - Maryanne Galvin
"Looooved the course. Thank ssoooo much for your terrific hospitality!!! - Dr. Robert Arnot
"Your BOSFCPUG workshops with Philip were a great event and provided amazing value for the money. Philip's knows his stuff and his completely agnostic view of the technology is welcome. Nice diverse audience who were willing to share and interact. Phlip's ability to handle the flurries of questions was pretty impressive. An Exceptional value!" - David Griffin